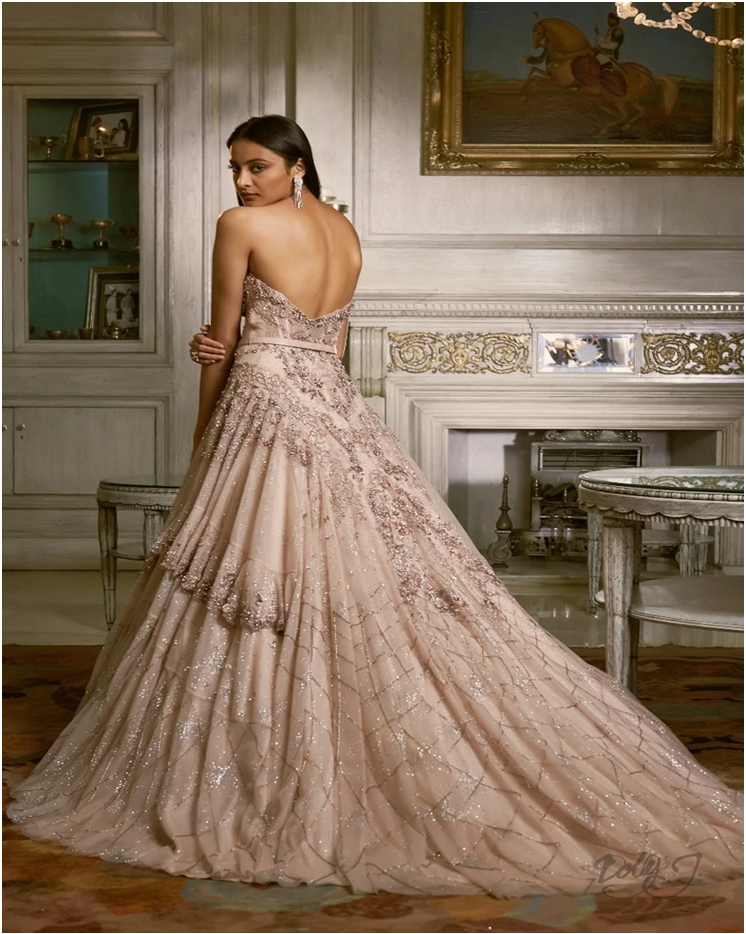 This Year Will Be The Year of Bridal Gown.
Read Time:
5 Minute, 23 Second
This year started with a rather sweet note for some and remorseful for others. The brides to be of this year started their year with shopping and are definitely going to keep on looking for the best designer bridal gowns for them.
The new year brings new opportunities and expectations, spending money on your bridal gowns is as necessary as the venue. Creating a lifetime of memory isn't easy, stitching a lehenga with extreme detailing and intricacy is crucial. Shop months prior to your wedding as it's going to take at least a month for everything to get ready before your wedding day. Furthermore, dress trials are the most important, clear your schedule the day before a trial. There's no wedding without a dress.
Let's first take a recap on 2021 bridal gowns and talk about the new collection later on.
Strapless gowns: bold yet chic look strapless gowns were the talk of the town. The cinderella like gown is like a corset top, fitted from above and the canen make the gown more profound and add some ponderousness to thebridal gowns.
Single stripe gown: only a cm. wide stripe gowns became popular among brides and it's relieved to still so in on the trend. Brides looked like they're visiting some red carpet-like occasions, however, in reality, it was for their own wedding.
Detachable sleeves: for diversified pictures, we can't just change our whole look on our wedding day, right? Detachable sleeves are so elegant and give a unique look to a dress when used.
Gowns that shine at night: if your wedding is in an open space at night then it's best to find something that shines more than a diamond. Gowns that have feathers on their sleeves and shine through your eyes is the one for you.
Gowns with a cape:DollyJ offers the best designer gowns that have a cape with them. Such regal yet chic collections always go out of stock all because of their uniqueness and royal admiration.
What should you consider before buying a bridal gown: 
The budget:
Your budget is what makes all the other necessary points relevant. How? If you haven't set a budget for your dreamy outfit, then, you won' be choosing from the most expensive dress and the cheapest one. There's always a struggle between choosing a budget and researching for the best dress. What if the dress you like doesn't fit your budget or if the dress is in your budget but you don't have the urge to buy it. In such a scenario, research is the key. So everything is interlinked. Set a budget fr every outfit necessary for wedding occasions and spend it smartly.
The research:
We've seen every kind of wedding budget in the year 2021. From big fat weddings to minimalistic intimate weddings, brides and grooms and aced with their outfit choices. Buy the best bridal lehenga stitched from DollyJ the best designer in town. Not only research about the latest bridal trends going on but also the budget spent on that particular dress your eyes stuck on. It's easier to shortlist certain designs according to your budget and find similar pieces in the market.
Find your fit:
On that note, after researching thoroughly, it's not necessary that you'll find a similar outfit for your wedding. You've two options, either get the similar one stitched from a boutique or find something similar with a pinch of the uniqueness of a certain brand's designer. This yearbridal gownsare going to break the internet with their sensational designs. Brides of 2022 have high expectations from the designers to craft unique outfits.
The fabric, material, and color of the outfit:
We will talk about all the mentioned topics from above altogether as they're all interlinked. We are all inclined towards a ceratin fabric and embroidery that we would like a tower on our day. Seasons play a crucial role here as well as velvet lehengas are the best for winter weddings and raw silk for the springtime wedding day. If the wedding is during the daytime opt for a light-colored vibrant bridal lehenga with subtle makeup to finish off the look.
What should you expect from 2022:
With this year expect more and more ethnicity yet uniqueness in designs. Modernization is one typing, wedding industries still make money because of how ethnic yet chich the bridal gowns and lehengas are. For a viral outfit design your own outfit and ask DollyJ to stitch it for you. It's cost-effective and you'll get exactly what you've visioned. This yearbridal gowns are going to break the internet with their sensational designs. Brides of 2022 have high expectations from the designers to craft unique outfits.
Something about DollyJ
At Dolly J, our clothes capture a lifestyle that mirrors today's India, an unapologetic fusion of the cultural and the contemporary. We believe in staying true to the traditions that have built this legacy while moving forward into a more fearless world. We imagine traditional crafts in a contemporary language, making them relevant for women of all ages and sizes.
To us, it is not just the garment that is important, but also the story behind it – from using sustainable fabric to sharing the experiences of our tailors and karigars. We hope you fall in love with not just the beauty of our pieces, but the narratives that created them.
Our mission is to celebrate the heritage that gives our clothes its authenticity and character. By using Parsi embroidery and thread-work, we celebrate the rich tradition of textile that has thrived in India for centuries. We operate with absolute transparency about our methods and workers, and we hope to celebrate the different traditions that make them unique. Our karigars add their own charm to each piece by hand stitching it, their stories echoed in the weaves of the fabric.
We are committed to creating a more sustainable world, and use organic and natural material for all our garments, which we then transform into handwoven fabrics. We believe that fashion has to exist in correspondence with the past and the future. As much as it is our responsibility to celebrate the past, it is equally important for us to protect the future, and in keeping with this, we make it our mission to operate with sustainable practices.