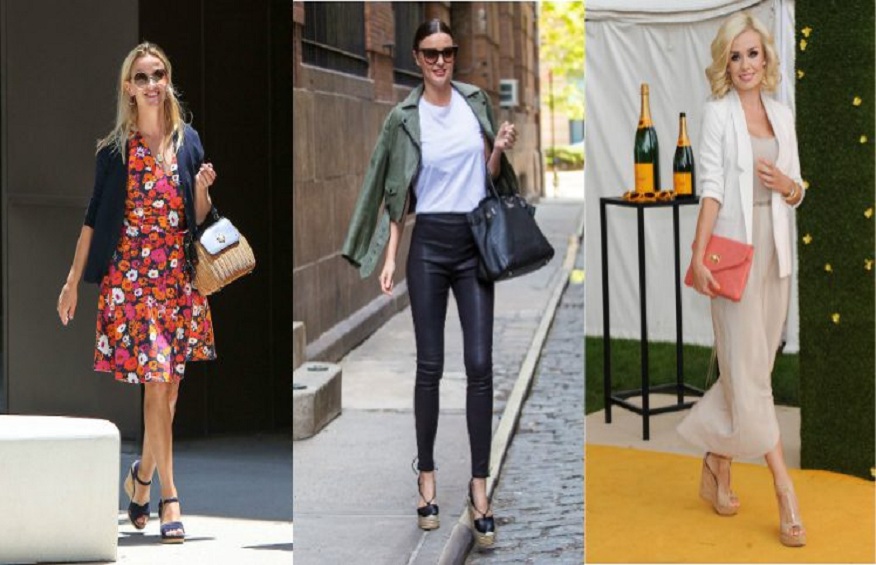 Outfit styles that are good for wedge sandals
Read Time:
7 Minute, 34 Second
Wedges first became popular in the 1930s. This style of shoe is great for stylish women who don't want to give up comfort to look better.
The great thing about these shoes is that they are very fashionable and can be worn with any style, from simple to very fancy.
Wedges are very versatile shoes that can be worn for any occasion and will quickly become a part of your wardrobe to make you look trendy.
In this article, we'll show you some amazing ways to wear wedge sandals to different events, and we'll also give you tips on how to look great and feel good about yourself.
But before we get to the looks, here are some tips and advice that you should definitely think about if you want to look your best with this model of shoes.
Outfit styles that are good for wedge sandals      
Wedges are very versatile shoes that can be worn with a lot of different looks. You can wear them with shorts, skirts, business clothes, or good jeans. Even when it comes to dresses, you have a choice.
This style of shoes is a quick way to make an outfit look more modern and has been in style for a long time. They look great on skirts, dresses, and even shorter outfits, like shorter dresses or long skirts.
Aside from that, wedge sandals have a lot of other benefits, such as the ability to improve posture because they offer more support than stilettos, more support for the arch, and fewer ankle problems.
After learning about the benefits of wedges, the next step in creating a balanced look is to become familiar with the many ways you can reach this goal.
Women who have trouble walking with high heel sandals should wear wedges instead. These are the most comfortable women's heels that will also make you look taller and give you a little extra height.
You can also keep in mind a few tips to make sure you can wear this style of shoe without looking too much.
Let's get right to it, because these ideas are sure to get your creative juices flowing and help you make your next look with this beautiful type of shoe.
Wear wedge sandals with flowery shorts and a black blazer.
One way to add a personal touch to your outfit is to make the flower accessory the focus of it.
Pair a good pair of flower-patterned shorts with a white V-neck top and a black jacket. If you want to stand out from the crowd, put on a good pair of black wedge heels.
If you like to add a splash of color to your outfit, you should give this look serious thought because it is both fun and stylish.
Teal floral maxis with slits and wedge sandals for plus-size women
You can pair your favorite maxi dress with wedge sandals to look great during the warm weather months.
This is an amazing idea for a romantic lunch date. The height of wedge sandals is perfect for adding a bit of height and dimension to your look while still being very comfortable to wear.
Wedge shoes with a slitted black dress, paired with an orange wedge sandal and a denim jacket.
Walking in wedges is a lot more comfortable than walking in heel sandals. You can choose to pack a simple black dress with a splash of color by accessorizing it with a pair of gorgeous orange wedge sandals. This is an excellent option for a vacation wardrobe.
A striped tote bag is the perfect accessory to round off this look. This outfit is ideal for a laid-back day out or for a day spent brunching.
Wedge sneakers with concealed heels
This look is really easy to pull off and will be quite fashionable in 2022. It can also be worn to any event that you can think of.
If you want to go for a more laid-back style, a nice pair of wedge sneakers, ripped jeans, and a sweatshirt are all great choices.
This look is simple to achieve on a day-to-day basis and is not only fashionable but also very comfortable to wear.
For a date, wedge sandals paired with a black dress with partial mesh sleeves.
The versatility of wedges makes them suitable for every event; you can dress them up or down to perfectly match the rest of your ensemble.
It would look great with a pair of excellent office heels with a blingy thick strap if you wore a nice flowy black embroidered dress.
You simply need to switch up your accessories to make this outfit suitable for a day at the office or a night on the town. Let your hair open and choose a lipstick with a strong color to add a splash of color to your style. This will give you the appearance of being effortlessly appealing.
Wedge sandals paired with a one-shoulder dress in a neutral tone.
To achieve the ideal laid-back look for a day spent hanging out with pals. A long dress in a neutral color that has a slit might look great when accessorized with a lovely pair of high wedge heels.
The combination of big wedge heels with a flowy dress creates the ideal sense of balance in this style. You may achieve a laid-back and unfussy look with your hair by wearing it in an open style.
Wedge sandals and flared pants, topped with lace.
You can achieve a chic and laid-back appearance appropriate for the afternoon by wearing a pair of shoes with crop top and blue trousers.
This will make you appear taller, and it will offer you more latitude to experiment with your makeup in order to create a look that stands out.
Adding some accessories and a lipstick with a strong color can help make the look suitable for any occasion, and adding the lipstick will help boost the look.
A striped dress and an off the shoulder top look great with wedge sandals
When it comes to deciding whether or not to wear wedges with the dress, the decision ultimately comes down to your own sense of style.
You might wear a pair of high wedge heels with a lovely dress that is black and white in color.
 If you want to get a style that is more laid-back and carefree, you might go ahead and wear a shirt over the dress.
 If you want to go for a more laid-back appearance, put your hair up in a high bun, wear a pair of sunglasses, and accessorize with a lovely crossbody purse.
Wedge sandals paired with a short black dress featuring a deep V-neckline.
Wedges are a fantastic shoe choice for dresses of any length. You won't have any trouble putting together an outfit when you wear a good pair of neutral heels with a short black flared dress.
This is the kind of clothing that works equally well for a night out with friends or a cute date. You can give your hair some dimension by leaving it open and curling it in a haphazard manner.
This is a look that can be pulled off effortlessly by ladies of any age and regardless of their body type; it is the ideal choice for the warm summer months.
Wedge sandals paired with a gray formal gown for women in their later years.
You are welcome to wear a lovely silk dress to an event that is only semi-formal. Get a good pair of handmade wedge heels if you want to add some height without sacrificing any of your comfort.
The heels, which are a neutral color, provide the ideal point of contrast to the dress, which is solid in color.
Combining wedge shoes, skinny jeans, and a peplum shirt is a great look.
This is the perfect style for you if you enjoy wearing massive wedge heels and are someone who enjoys drawing attention to yourself in a room.
Wear a good pair of slender jeans with a silk shirt that has flared sleeves. Put on a pair of beautiful, chunky wedge sandals if you want to give the appearance a hint of ultra-chic sophistication.
This style is best suited for bold ladies who enjoy challenging themselves and venturing beyond their comfort zones.
Capri pants, pink top, and wedge sandals with a wedge heel.
You may achieve a carefree and easygoing style without having to put in a lot of work by using floral motifs to assist you achieve this look.
Putting on a pair of flowery wedge heels is a surefire way to make the most of any ensemble you're wearing.
This not only provides the overall appearance a lovely touch, but it also gives it a touch that is unique.
You can wear cropped white slacks with a lovely pink shirt if you want to. To finish off the ensemble and give it that little something special, add a pretty pink clutch to your handbag.