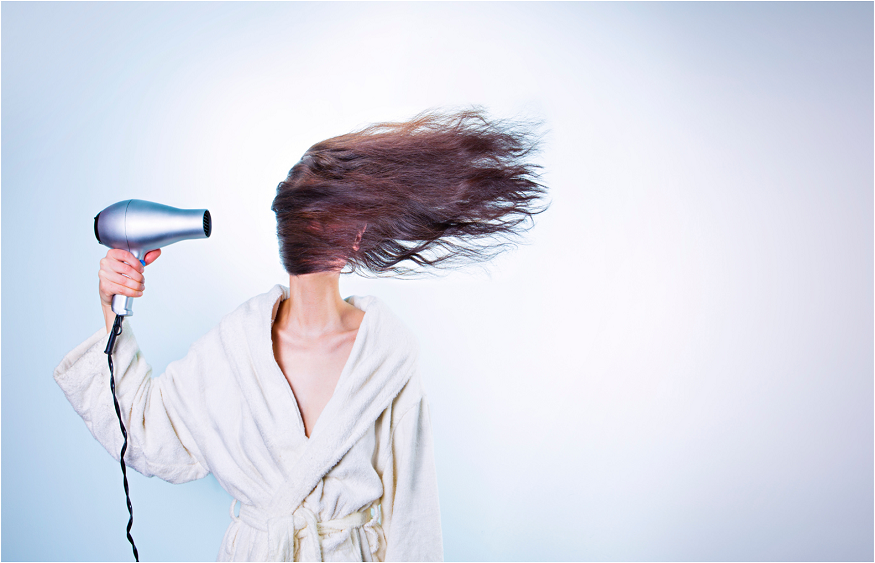 Looking for Hair Dryers? Here are Our Top Picks for a Perfect Blowout!
Read Time:
4 Minute, 5 Second
Hair Care routines are an essential part of our lives. Apart from choosing the right products for our tresses, drying them after a wash is an equally tricky chore too! We are usually confused about whether to towel dry, air dry or blow dry our hair. The towel is rougher and drier than your tresses. Thus, towel drying can cause the cuticle to rise, increasing the likelihood of damage or causing the weakened strands to split or snap. 
When hair is damp, it is most sensitive to damage. Allowing hair to dry naturally leads the cortex (the thickest layer) to swell and weaken, putting strain on the fragile proteins that hold hair together. We believe the heat from the hair dryers can cause damage to our hair. That isn't entirely true! In contrast to popular belief, using hair dryers is the safest among the other methods!
Dryers dry your hair by increasing the rate at which water evaporates from the hair's surface. A hair dryer's hot air raises the temperature of the air around each strand of hair. Because warm air contains more moisture than room-temperature air, more water can escape your hair. Temperature rises also make it simpler for molecules in a water droplet to overcome their attraction to one another and transition from a liquid to a gas state.
The first and most apparent advantage of hair dryers is that they reduce your everyday salon spending. Not having an appointment with your hairstylist means not having to spend money on trying out new hairstyles. Purchasing a blow dryer is a cost-effective option for those who want to refresh their look and appearance. Using hair dryers to dry your hair gives it a smooth and light appearance. 
A hair blower enhances your entire appearance by providing your hair with excellent shine and smoothness. Hairdryers help you pre-style your hair, making it de-frizzed and easier to style. Whether you're going for a formal or informal look, blow-drying your hair will give you a tidy and well-groomed appearance. A hairdryer machine reduces the time it takes for your hair to dry naturally. It shortens the time it takes to style your hair. Hair dryers make the entire styling process simple and enjoyable.
Here are a few hair dryers that you can choose from
Philips Drycare Advanced Hair Dryer Hp8232/00
This hot and cold hair dryer protects your hair while drying it quickly. The ThermoProtect temperature option in this device provides the ideal drying temperature while also protecting the hair from overheating. With the same powerful airflow, you will achieve the most outstanding results in a caring manner, with extra heat protection for the hair. 
This 2200W professional hairdryer has strong airflow. The resulting mix of power and speed enables drying and styling your hair faster and easier. You can adjust the required speed and heat to get the desired style. Six separate settings provide complete control for precise and personalised style.
Roots Hair Styler Folding Dryer Hsd1
This Roots Hair Dryer makes blow drying quick and effortless. The hair blower provides salon-quality blowouts at home. It has two heat and speed settings, allowing you complete control over any hairstyle. This hair dryer offers a powerful hair-drying experience that is quick and easy to use. It is foldable and portable too. With its auto-shutdown feature, this product prevents overheating and electrical accidents.
Ikonic Evolution Hair Dryer
Get the perfect blowout with the tiny, lightweight, and travel-size Ikonic evolution blow dryer. It uses ionic technology to achieve a blowout at home free of pesky flyaways and frizz. It boasts a grip that securely fits your hands, two heat settings for a fully personalised blowout, and a special nozzle that gives it a shinier and less-frizzy appearance. 
This professional hair dryer has a powerful motor that can reach 1800w, allowing rapid and effortless blowouts. In addition, its 'overheat safety function' enables the instrument to shut down automatically if it overheats or after 60 minutes of inactivity.
You can shop for these products on
Health and Glow
.
Here are some pre and post-blowout tips that go a long way for using a hair dryer. 
Before exposing your wet tresses to heat, apply a heat-protectant product from the roots to the ends using your fingers. 

Set your hairdryer to the appropriate heat setting and select nozzle attachments as needed (remember to use suitable diffusers according to your hair type). 

Blow-dry your hair to make it smooth and lustrous. 

You can use a round brush to style your tresses as desired. 

Keep a reasonable distance between your hair and the hair dryer. 
Following these methods will help you achieve a flawless blow dry, giving your tresses a stunning appearance. So get your hands on a hair dryer and give your gorgeous locks a bouncy, voluminous, salon-like look within minutes!