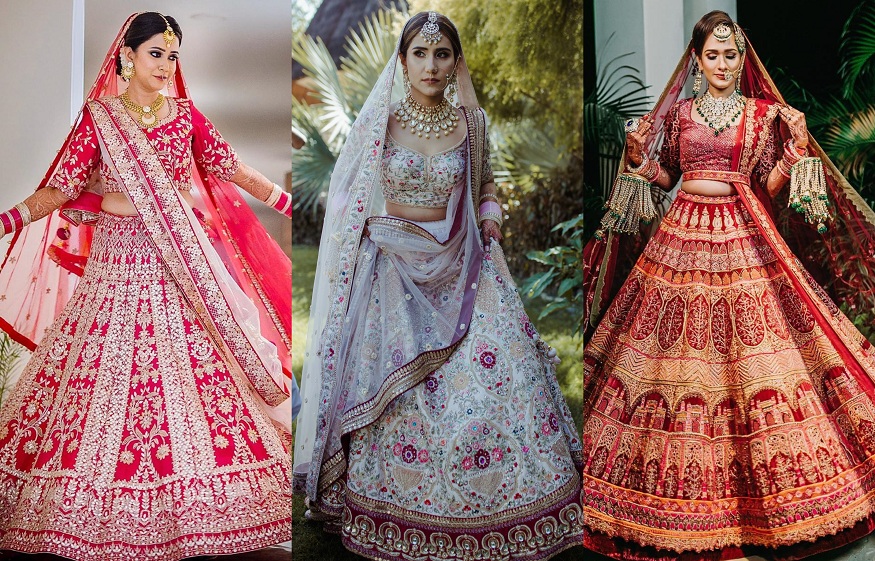 Rock your Wedding with the best Wedding Lehenga
Read Time:
4 Minute, 10 Second
A wedding is said to be the biggest event of a girl's life as everyone's eyes are on her. From her makeup to hairstyle, bridal dress, footwear, jewelry and not to forget the glow that she carries with her is mind-boggling and worth watching. It takes a lot of research, hard work, and creativity to create that perfect look. Above all is to decide on the bridal dress that will enhance the overall look of the bride. Selecting the bridal dress is a big thing to do as the bride will be posing for hundreds of snaps wearing that outfit and will be the most talked about gossip in the town. With the continuous change in fashion, it becomes tedious to decide what to wear on a special occasion. From festivals to weddings, Lehengas are becoming the most preferred choice of women because they are no longer just the traditional choli, a skirt with a matching dupatta. With plenty of brilliant designers working beautifully with a variety of colours, fabrics, prints, work, and patterns, it is no more boring to find a perfect one for the occasion. From different pastel shades to bright colours to metallic shades, brides are going one step further when it comes to picking the lehengacolour for their wedding. But how to decide on the right lehenga from the endless options available? Let's help you with some tips to choose the right lehenga for your wedding, so here we go:
Figure out what your body type is – rectangle, pear, apple, or hourglass. And accordingly, look for a lehenga that highlights your curves and hides your flaws.
Consider the season before buying as in summer brides usually prefer soft, lightweight, and easy-to-wear fabric which keeps them comfortable throughout the ceremony.
Look for the type of embroidery and embellishments you want for example you want something with heavy work or minimal work.
 Shortlist some colours as it will save some time to finalize the lehenga for your wedding day.
Latest styles for wearing a Wedding Lehenga:
Pastels- Undoubtedly, red, maroon with gold work is the bride's outfit colour and it gets a little boring to see every bride wearing the same colourlehenga choli. Pastel colours are in trend and now brides are getting more inclined toward these gorgeous shades.
 Floral prints- Heavy embroidery and embellishments are what we foresee when we think about the wedding lehenga but there is much more than that. Floral printed a-linelehengas paired with beautifully worked choli give a minimalistic classy look.
Jacket style- Extremely versatile and in-trend lehenga style with a perfect mash-up of traditional and contemporary fashion. It is one of the best styles of a wedding lehenga.
Ruffles and layers- If you don't want to emphasize your overall look and yet want to look extraordinary then this style with a floral worked choli, ruffled skirt/lehenga, and dupatta is the wedding outfit for you.
 Long Choli- If you are on the fatty side or not confident about wearing and flaunting your midriff with a short choli, then this style is a perfect pick for you.
Anarkali– All-time favourite, this beautiful figure-flattering lehengais tweaked to give it a fancy makeover as Anarkali style lehenga. Georgette and silk are the most used fabrics.
Fabrics for Bridal Lehenga Choli:
With endless options available, it won't be troublesome to find the right fabric lehenga. You can choose from a variety of fabrics, colours, and works, as per the climate you live in, and the occasion. Some of the most popular and preferred fabrics for women's lehengas are as follows:
Cotton: It is the most common fabric worn by brides in their wedding as it is extremely comfortable, breathable, and easy to wash.
Chiffon: The fabric is known for its sheer, transparent appearance and shimmery effect. Most of the brides prefer to wear chiffon lehenga because it is lightweight and keeps them comfortable throughout their wedding.
 Georgette: Thinner and cheaper than silk, it is the best fabric for a summer wedding.
Silk: Not suitable for summer, it is the most luxurious, expensive, durable, and royal fabric for Dulhanlehengas.
Why buy Bridal Lehenga Choli Online?
Of course, the wedding is incomplete without the family and friends donning equally attractive and eye-catching outfits as the bride. At Indya, we make things easier for you with countless options available online. Whether you are a bride-to-be, family, near relative, or bridesmaid, we have a dress for everyone. Not only in India but now our services are available in the UK as well. With us, you also need not worry about alteration, size, or styling as we provide made-to-order service as per your requirement. Apart from this, plus-size women can also get the best dress of their choice as we have a separate collection designed by various famed designers for them. So what are you waiting for? Start exploring our exclusive range now.